---
A-1 S.W.I.F.T.
Sound-Sample(s):


dont you cry (MP3)


Album: Sergio
---
Album: Tales from the Swift

Released: 1996
Label: Gospocentric


1 - BRING THE PRAIZ
2 - THE FORMULA
3 - DON'T CRY (IT'S GONNA BE ALRIGHT) 4 - SOME 'OL THANG
5 - DROP DA BOMB
6 - GET LOOSE
7 - YOU KNOW THE DEAL
8 - TALES FROM THE SWIFT
9 - I WON'T TURN BACK
10 - PRAIZ GOD
11 - BACKSTABBERS



---


This is the one we've all been waiting for. The Dynamic Duo of Chris and Alisha Tyler (Mr. & Mrs.) have come up with yet another dope disc! Their's is the kind of music young Christians are looking for. The uncompromising "Good News" mixed over a definitive hip-hop groove. Each trax will keep you hoppin and bobbin to the annointed beat. My personal favorite on the CD is the cut "Bring the Praiz" featuring a guest spot by The Gospel Gangstas. If you liked their first release "Turn Yourself Around", you'll love this one! Unlike so many artists who water down the groove and the message so they can be played on secular radio, A-1 S.W.I.F.T. stayed true to the game. And in my opinion, increased the quality of this product. The production is tight! Lyrical content is still a cut above the norm and this CD is currently nominated for a Stellar award (black gospel music's version of the Dove Awards). So, if you don't have this one yet.....What ya waitin' fer? Ask for it at any local Christian book store. It's on the Gospocentric label.

(source: All American Music webazine © 1996)


---


Voor de R&B/rap fans is de nieuwe CD van A-1 S.W.I.F.T. een leuke aanwinst. Eigentijds, vol met goeie beats en rap en een lekkere flow. Het echtpaar Alisha en Chris Tyler vormen de spil van deze CD. Het schijfje bevat 11 nummers waarop A-1 S.W.I.F.T. de doorsnee R&B combineert met een ietwat gangsta feel. Alisha rapt veel en dat is maar goed ook. Lekkere volwassen rap en mooie close harmonisch backing-vocals. In het 1e nummer komen Mr. Solo en Chili Chill van de Gospel Gangstas ook nog een partijtje mee rappen. Met Tales From The Swift kunnen we A-1 S.W.I.F.T. tot de top van de christelijke R&B/Rap-scene rekenen. Tekstueel gaat A-1 in op de zaken van de jeugd van vandaag. Ongewenste zwangerschap, gangs en geestelijke strijd zijn zomaar een aantal onderwerpen die voorbij komen. Deze CD is een leuke aanwinst voor de groover die van serieuze teksten houdt.

Collin M. Leijenaar
(source: Fronttaal Magazine, April 1996)


---


Deze CD is geen echte Sanctified Dance CD, maar hij is zo goed, dat ik hem er toch in vermeld. Het is rap/R&B CD die dik 49 minuten duurt en 11 nummers bevat.

Het overbekende A-1 SWIFT heeft wederom een zeer goede CD uitgebracht, die het seculier ook zeer goed zou kunnen doen. Het is een mix van commerciele rap en underground, die verbluffend goed klinkt!!! Het begint gelijk bij het eerste nummer genaamd Bring The Praiz dat er zelfs bij de SD-gangers goed in zou gaan.

De enige manier waarom het duo Alisha en Chris Tyler niet seculier zou kunnen slagen is dat de teksten zeer radicaal zijn. Elke song heeft een onderwerp dat je wel zou aanspreken als je goed naar de teksten zou luisteren. Alleen wordt dat bemoeilijkt door de zeer goeie muziek die erbij zit. Je let op een gegeven moment alleen nog maar naar de muziek!!!

Het bevat naast de goede commerciele nummers ook een aantal rap-ballads die de rust weer terug brengen. Maar dat doet absoluut niet onder vanwege het hoge gehalte radicale teksten en de goeie muziek die er in die nummers gebracht wordt.

Een zeer goede CD, die eigenlijk niet in je SD-collectie mag ontbreken ook al is het geen echte Sanctified Dance. Hij is heel goed dansbaar maar dan alleen wat langzamer en je handen gaan wat meer de lucht in... ...en richting je portemonee om de CD te kunnen betalen. Kopen dus!!!

(source: Marc de Jong, Sanctified Dance Corner)

---
Album: Turn yourself arround
Released: 1994


Stijl Rap


A-1 (eerste klas) S.W.I.F.T. (Salvation Will Indeed Feel Terrific) is een duo, dat bestaat uit Chris en Alisha Taylor, die beiden begin twintig zijn. Hun stijl kun je omschrijven als straat-georiČnteerde rap in de stijl van groepen als 'A Tribe Called Quest' en 'Digable Planet'. Hun doel is om een authentieke oplossing te geven voor de problemen, waarmee jongeren vandaag worstelen vanuit hun Christen- zijn.


(source: Samma Nieuws - Januari 1995)
---
Absolute Value
---
Acid Reign
Artist Info: 
(818) 964-8165
18753 Fieldbrook
Rowland Heights, CA 91748


---
Album: Tape (Title unknown)
Released: 1998

---
Acu'men
---
Agape
E-Mail: agape@ice.net
Homepage: http://www.agape-singers.com

---
Ajax
Album: Audio Odyssey EP
---
All Soul
---
Alliance Of Light
---
Alpha Select
Sound-Sample(s):


no stopping (Realmedia)


the whole nigeria's coming (Realmedia)

E-Mail: sound_doc@orangenet.co.uk
Homepage: http://cw.orangenet.co.uk/~sounddoc/alpha.htm

---
Amhad
Album: Call It A Come Back
Released: 1998
Label: Look Alive Records

---
Angelique!
E-Mail: Hheritage@aol.com
Homepage: http://members.aol.com/Hheritage/angie.html

---
Antitoxin
Sound-Sample(s):


Beatbox (MP3)


Freestyle (MP3)


Electric Boogie for ya brain (MP3)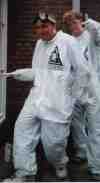 Homepage: http://www.AgainstThaFlow.com/atf/artists/at/

---
Antonious
Sound-Sample(s):


Deception (Good vs Evil) (Realmedia)


Album: Good Vs Evil
---
Album: Principalities
Released: 1998


Antonious stole the hearts of thousands of Christian rap fans nationwide with his absolutely smashing debut release, "Good vs Evil". Antonious' genuine zeal and heart for the Lord shows through in every lyric that he puts down, and his smooth style is unequaled! Set to smooth beats laid down by nationally renowned hit makers "Dynamic Duo," Antonious works wonders on the mic!!! His smooth style and execution of his lyrical gifts are a true rarity.
---
Apocalypse
Album: Holiness or Hell
Released: 1991
Label: Phat Boy


---
Album: The Final Plea
Released: 1992

---
Area Code
Album: One Big World
---
Arkitekt
Sound-Sample(s):


Disk C (MP3)


Beat3 (Realmedia)


Beat 4 (Realmedia)


---
Audio Adrenaline
E-Mail:
bobaa@aol.com
Artist Info: 
P.O. Box 3541
Brentwood, TN
37027


---
Album: Audio Adrenaline
Released: 1992


Style: Rap/Rock




Rap vormt de hoofdmoot op deze CD. Maar ook muzikaal valt er heel wat aan te beleven. "It's an audio world/A world that's reaching out to you", horen we in "Audio World". "A world that's dying to hear the truth" en die verbergen de vier jongens van AA niet. De tekst van het nummer DC-10 zal de Amsterdammers momenteel wat wrang in de oren klinken, "If a DC-10 fell on your head, do you know where you're gonna go". Een CD voor liefhebbers van rock en rap.

(source: Premier Magazine, November 1992)



---
Album: Big House (video)

Label: Forefront


If you have watched many long-form videos by Christian bands, you probably have started to think they all are pretty much the same. Well, I can't say this one totally shatters the mold, but it does have its nice features.

Probably the best segments of the project are the glances into the personality of each band member. Instead of the typical, sit-down interviews with the group, there is a fast-paced collection of clips from each member commenting on the other members. They are off-the cuff responses in a casual setting--with Mark Stuart in a small diner, Bob Herdman standing next to the band's truck, and so on.


The video opens with the band taking to the basketball court in a humorous video for "A.K.A. Public School" as they also show "off-court" shots of the members befriending students at school. Next, the interview clips focus on Herdman, followed by a look at Stuart. There is a balance of seriousness and humor. Each member jokes and teases the others about certain things, but also compliments the bandmates' musical abilities, servant attitude, and friendship.

Following that segment is the concert video, "We're A Band." The abundant photographic effects enhance the video, yet leave the main emphasis on the live performance.

Next are segments focusing on Will McGinnis, Barry Blair, their drummer, and the road crew. They offer a disclaimer that "the record company made us dress that way," and then play the high-action video for "P.D.A." from their debut album. The last video is "Big House," a light-hearted concept piece corresponding to the upbeat tune--with the guys playing football in a "big, big yard" among other things.


Of course there are plenty of video clips from their time on the road--the funny, the serious, and the complaints of dreading the traveling. The segments are fast-paced and upbeat. They close the project, however, with an intense tale of the impact that the song "Big House" had on the youth group of a boy who died in a car accident soon after an Audio Adrenaline concert.

While the interview segments aren't going to show you in entirety of the lives of the Audio Adrenaline cast, they do offer significant insight into the members of band.

--Roger Appelinski
Copyright © 1995 Polarized Publications and NetCentral, Inc.

---
Album: Bloom

Released: 1996


Producer: John Hampton/Gotee Brothers Tracks: 12
Playing Time: 52:25


Ed:
Bloom doesn't appear to be just the third in a series, but almost a reevaluation of what Audio Adrenaline wants their signature to be. The sound is still "groovy," with lots of scratch guitar, but it seems a little more mature--in a fun sort of way.


Robert:
I agree--this album has a very different feel from their previous two. They've chucked all the synthy, sequenced stuff and taken more of a "we can actually do this one in concert, guys!" approach. As a result, this album reminds me more of some pre-metal 70's rock bands. The instantly accessible hooks that peppered Don't Censor Me are pretty much gone, though "Never Gonna Be As Big As Jesus" does come close, both musically and lyrically, to the tone they've taken before.


Ed:
Yes! For me, this disc is reminiscent of the funky, fun bands of the 70's like T Rex and the James Gang and maybe a touch of BTO. Even with the retro feel, it's still quite up-to-date.

The first thing that struck me was that there was no instant youth group anthem like "Big House" on this one--at least one that a bunch of kids (of any age) could go around singing everywhere they went. However, as I listened, I really liked their version of Edgar Winter Group's "Free Ride." Maybe it's just time for that song to be dug out or maybe they just do a darn good job of it, but I really liked it.

Robert:
Lyrically, I see a huge emphasis on humility running through songs like "I'm Not The King" and "See Through," to name a couple. "Man Of God" contains some great introspection along those lines, probably my favorite AA lyrics to date. They have a way of putting a humorous Steve Taylor-like twist on some serious issues of faith and obedience.

Ed:
Yeah, it almost seems more personal than previous efforts. I guess they have achieved some amount of success and now they are dealing with some of the things that go along with it. They seem to deal with struggling on this album--realizing that we aren't perfect, but that God is in the process of completing what He has started. It's interesting that dc Talk's Jesus Freak seems to deal with many of the same issues. I guess they got to grow through some things together on tour.

Robert:
It's funny that you bring up Jesus Freak. I see a real synergy going on between AA and dc Talk. Beyond the lyrical connection you brought up, I thought that Jesus Freak used a lot of musical ideas seen, in a less expansive package, in Don't Censor Me. Dare I say that AA has already been where dc Talk is now musically, and AA has moved on? In another sense, AA has simply gone back to where they started, substituting actual melodies for the screaming approach of older songs like "My God" and "DC-10." Overall, I think I still prefer Don't Censor Me, but Bloom is a worthy successor to their previous efforts.

Ed:
I'm sure certain songs from Don't Censor Me will always be near and dear to my heart, but I think I may tend toward the liver sound of Bloom.

--Robert Berman and Ed Rock
Copyright © 1996 Polarized Publications and NetCentral, Inc.

---
Album: Don't Censor Me
Released: 1993
Label: Forefront


Audio Adrenaline shocked Christian music with their with their unique brand of music, termed NURock, on their debut release. Since their style is so unprecedented, they received various comparisons, basically centering around a combination of hip-hop, rock, dance, alternative, and pop. With their follow-up, Don't Censor Me, Audio Adrenaline (Mark Stuart, vocals; Barry Blair, guitars; Will McGinnis, Bass; Bob Herdman, keyboards) take NURock a step further as they speak out against the how the secular world oppresses Christianity.

This time, the sound is similar, but more on the mid-pace Rock-Pop side. Steve Griffith was again at the production helm, while delegating two tracks to the "Gotee Brothers" (Toby McKeehan, Todd Collins, and Joey Elwood). AA handled the songwriting, except for Collins and McKeehan helping out with "Can't Take God Away."


The title track and "Can't Take God Away" stand against religious censorship and oppression. "We're a Band," an aggressive rock track, states the group's purpose, "God's coming back and I want to be playing His tune... We're a band/For the Son of Man/We will take a stand/You can make a plan/He'll be back again/We're a band," but returns to the topic of censorship, "Please remove your hand from my mouth..."

AA encourages kids that mission work is not only for foreign countries, but for our schools in "AKA Public School." "Jesus and the California Kid" is a interesting mix between aggressive techno-like verses and a Beach Boys style chorus. An almost jazzy, upbeat track, "Big House," talks about heaven in a fun way as a big house (with lots of rooms) with a big table (with lots of food) and a big backyard (where we can play football).

To me, the most impressive track is "My World View," a cautionary reminder to see the world through the eyes of Christ. This peaceful pop ballad features some guest vocals by Kevin Smith (D.C. Talk) and actually bagpipes effectively to create an almost dreamy mood. A similar ballad is "Rest Easy," where the verses tell of a man realizing he is sinful and has not achieved the goals he set, while the chorus returns a sweet message from God: "Rest east/have no fear/I love you perfectly/love drives out fear/I'll take your burden/you take My grace."

The album ends with a downbeat acoustic sounding "My Scum Sweetheart," regretfully remembering a worldly relationship--but it's the only downbeat track on the project.


The only time this has left my stereo since it arrived was to work on another review--otherwise it would have stayed on repeat-mode the whole time. I think it's one of the freshest Christian music expressions in the Pop/Rock/Hip-Hop range since D.C. Talk's Free at Last. If that's your scoop, you'll probably dig this.

--Roger Appelinski


Article originally appeared in THE LIGHTHOUSE December, 1993 Copyright ©1993 THE LIGHTHOUSE




---
Album: Don't Censor Me (Extended Play Remixes)
Released: 1994
Label: Forefront


Scott Blackwell is a busy man these days, yet he managed to contribute most of the creativity behind these new offerings--remixes of some of the industry's upbeat songs. He pulls off some excellent work, up there with his best.

Two mixes of "Can't Take God Away" start the Audio Adrenaline project. The first, the 'Eternal Life Mix,' is an extended version of the original with long digital-effects based interludes in spots. The 'House Mix' relies more on some funky organ sounds with the synthesizers enhance the original. The 'Hardcore Mix' of "We're a Band" is a rather stark contrast to the original. Practically the vocals are the only thing left with a few drum and synth loops, leaving a slow grooving remake. Ian Eskelin adds an 'Aquatic Dub Mix' of "Big House." It also offers a fairly slow groove in contrast to the original, with much of the track being a slow loop with quick electronic effects , bringing this album close to 23 minutes.

While there are only four songs on the album, I thoroughly enjoyed the mixes and like most of them more than the originals. If you liked them once, you'll probably like them again in their new form.

--Roger Appelinski


Article originally appeared in pre-web TLeM October, 1994 Copyright ©1994 THE LIGHTHOUSE electronic MAGAZINE

---
Album: Live Bootleg

Released: 1995


Producer: Audio Adrenaline
Number of Songs: 11
Playing Time: 54:02


Live albums are always an interesting proposition. They rarely expand the audience of a group as they usually aren't a good introduction to a band. For the group's hard-core audience, however, they are usually a welcome release.

Such is the case with Audio Adrenaline's Live Bootleg. The project is compiled from recordings made in Seattle, WA; Salem, OR; Reno, NV; Burlington, NJ and Lancaster, PA. It is a completely live album--there are no overdubs. At times, it almost seems as if the band forgot there was tape rolling (maybe it is a real bootleg...) Will McGinnis' nervous "uh"-laden and voice-cracking sharing time and the several small miscues that were unchanged add to the impression that the listener is actually at the concert. It is totally raw and the band is very free to ad-lib and interact with the audience. I think it does an admirable job of capturing the experience of seeing Audio Adrenaline in concert.

After a one-minute introduction, they include the songs "We're A Band," "What You Need," "Can't Take God Away," "Soulmate," "Scum Sweetheart," "Rest Easy," "Don't Censor Me," "Big House," "Happy And You Know It," and a medley of "My God" and "DC 10." The songs aren't the same arrangements as the studio releases, but they are similar (except for the medley).


Just like a "normal" bootleg, the packaging on the project is sparse. There's a grainy cover and a few credits on the back of the case--that's it. No photos, no band thank-you's.

If you are an Audio Adrenaline nut, then you will most likely want to add this to your collection. If you haven't heard the band before, their studio releases would be a better introduction.

--Roger Appelinski
Copyright © 1995 Polarized Publications and NetCentral, Inc.
---
Ayeesha
Album: Listen Closely
Released: 1998


For many years, fans around the nation have looked eagerly forward to a female rapper of a caliber consistent with current Grapetree artists. To answer their requests, we bring Ayeesha. Ayeesha serves as a role model to other young women seeking to serve the Lord with their talents. Grapetree Music Group has been actively grooming Ayeesha for what will be one of their biggest releases yet, so look out!

---
WARNING: MP3-files do not always contain full-length-full-quallity samples. These files can contain samples from 10 seconds-8bit-8khz-mono-noise up to the full-length CD-quallity-stereo samples...

---